Finding the best jobs for veterans during their transition military service to the civilian workforce can be both an exciting and challenging endeavour.
Fortunately, the unique skills and experiences gained during military service can open doors to a wide range of rewarding career paths.
Whether you have a background in combat, logistics, healthcare, or technology, this list offers a variety of options to explore.
However, job seekers must consider factors such as job availability, salary potential, and compatibility to find the career path that best suits their overall needs and qualifications.
Below, we will present the 13 best jobs for veterans to consider in 2023 as they begin their transition into civilian service work.
Now, let's begin!
Best Jobs for Veterans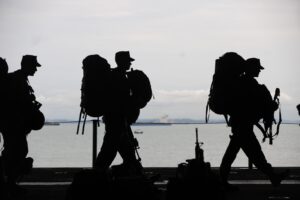 1. Information Security Analyst
Salary Range: $95,000 – $120,000 per year
With their strong focus on discipline and attention to detail, veterans often make excellent information security analysts.
In this role, they protect organizations' computer networks and systems from cyber threats.
Veterans' ability to analyze complex situations and mitigate risks make them valuable assets in combating cybercrime and ensuring the integrity of critical data.
2. Registered Nurse 
Salary Range: $75,000 – $150,000 per year
The healthcare field presents numerous opportunities for veterans to utilize their training and experience.
As registered nurses, veterans can provide compassionate care to patients in a variety of settings.
Their ability to remain calm under pressure and work in high-stress situations makes them valuable additions to healthcare teams.
Veterans can choose from diverse specialties such as emergency care, critical care, or pediatrics.
3. Commercial Pilot 
Salary Range: $95,000 – $200,000 per year
For veterans who have a passion for aviation, a career as a commercial pilot can be an excellent choice.
The discipline, focus, and ability to work well in a team that military service instills are highly transferable to piloting.
Veterans can pursue various paths, including airline transport, cargo, or corporate aviation, experiencing the thrill of flying while enjoying attractive compensation packages.
4. Operations Manager 
Salary Range: $75,000 – $130,000 per year
With a strong background in leadership and logistics, veterans can excel in the role of an operations manager.
These professionals oversee the daily operations of organizations, ensuring efficiency and productivity.
Military experience equips veterans with skills in strategic planning, resource allocation, and effective communication, making them well-suited for managing day-to-day operations.
5. IT Project Manager  
Salary Range: $85,000 – $150,000 per year
The military often provides service members with opportunities to manage complex projects, making IT project management an ideal career choice for veterans.
With their strong organizational and problem-solving skills, veterans can successfully lead teams in planning, executing, and completing technical projects.
The demand for skilled project managers in Information Technology (IT) is high across industries, ensuring stable employment prospects over the next decade.
6. Mechanical Engineer 
Salary Range: $85,000 – $125,000 per year
Veterans with a knack for problem-solving and a background in engineering may find a fulfilling career as a mechanical engineer.
Their familiarity with complex machinery and ability to adapt to challenging environments make them valuable contributors to this field.
Mechanical engineers design and develop mechanical systems, products, and tools, applying their analytical skills to drive innovation.
7. Law Enforcement Officer 
Salary Range: $65,000 – $100,000 per year
With a strong sense of duty and a commitment to protecting others, veterans can make a significant impact as law enforcement officers.
Their training in conflict resolution, crisis management, and decision-making is directly applicable to the challenges faced by law enforcement professionals today.
Careers in local, state, or federal law enforcement agencies offer opportunities for veterans to continue serving their communities and make a lasting impact.
8. Management Consultant 
Salary Range: $85,000 – $150,000 per year
Management consulting is an ideal career path for veterans who thrive on problem-solving and strategic thinking.
As management consultants, veterans can help organizations improve efficiency, streamline processes, and achieve their goals.
Their experience in leadership, resource management, and adaptability enable them to provide valuable insights and solutions to various industries and clients.
9. Electrician 
Salary Range: $65,000 – $95,000 per year
For veterans who possess technical aptitude and enjoy working with their hands, a career as an electrician can be both rewarding and lucrative.
Electricians install, maintain, and repair electrical systems, ensuring their safe and efficient operation.
With a great attitude, attention to detail, ability to follow protocols, and familiarity with complex systems make them valuable assets in this field.
10. Human Resources Manager 
Salary Range: $85,000 – $130,000 per year
To embark on a new career in human resources, veterans must possess strong interpersonal skills and experience in leading teams.
In this role, they oversee personnel policies, employee relations, and workforce development.
Veterans' ability to handle sensitive information, enforce policies, and build cohesive teams makes them well-suited for this critical organizational function.
11. Software Developer 
Salary Range: $85,000 – $150,000 per year
With an analytical mindset and proficiency in problem-solving, veterans can find fulfilling careers as software developers.
What's great about starting a career in software development is that you don't necessarily need an advanced degree to land your first job.
As software developers, veterans can design, build, and maintain applications, contributing to the development of cutting-edge technologies.
They can explore emerging sectors like artificial intelligence and cybersecurity.
With a knack for problem solving, Veterans can begin a fulfilling and lucrative career in software development.
12. Construction Manager 
Salary Range: $95,000 – $140,000 per year
If you're a veteran with a background in engineering or construction, you can leverage these skills to become a construction manager.
But this most certainly won't come easy, and you'll likely have to work your way up the ranks.
These professionals oversee construction projects, ensuring they are completed on time and within budget.
Veterans' experience in project management, logistics, and resource allocation equips them with the necessary skills to excel in this role.
However, this career path may not be the right fit for you if you're looking for something less labour intensive.
13. Financial Analyst 
Salary Range: $85,000 – $120,000 per year
Veterans who possess strong analytical skills and an interest in the financial markets, can find rewarding careers as financial analysts.
These professionals provide guidance to individuals and organizations on investment decisions, financial planning, and risk management.
Veterans' attention to detail, ability to analyze both qualitative and quantitative data, and understanding of risk assessment make them valuable contributors to this field.
Best Jobs For Veterans: Why You Might Need To Post-Pone Your  Retirement Plans
Transitioning from military service to civilian life can be a challenging endeavour.
However, veterans possess a unique skill set that can open doors to a range of rewarding careers.
If you're a veteran currently looking for work, odds are that you are behind on your retirement plans.
Over the last 3 years, inflation has crushed the average worker and wages have continued to lag the rising cost of living.
But, the good news is that if you pick the right career path you can accelerate your time to retirement by leveraging your existing skillset that you have.
By considering these 13 best jobs for veterans, you can embark on a new journey and build a prosperous career after the military to reach your retirement goals.
Related Articles