Highlights:
Bank of Canada raises overnight policy interest rate to 0.5% 

Unprovoked invasion of Ukraine and rising commodity prices could weigh on global growth 

CPI Inflation is currently at 5.1%, well above the Bank's target range 

Canada's housing market will need more than one rake hike for price stability
On Wednesday, March 2, 2022 the Bank of Canada announced they have raised their key policy interest rate to 0.5%. This was the first interest rate hike by the Bank since 2018. 
The Bank of Canada noted that the unprovoked attack on Ukraine by Russia is a ''major new source of uncertainty.'' This attack has led to oil and other commodity prices to soar. Today, Brent crude oil surged over $110.00/barrel, as low inventory and supply side constraints support higher prices. 
Central bank's easy money policies during the Covid pandemic have also led to the housing market and other household goods to balloon in price. Canada will need multiple rate hikes to cool the red hot housing market. Rate hikes will affect the cost of borrowing for various loans, including mortgages and credit cards. 
Heightened geo-political tensions between Russia and the U.S. could also put pressure on U.S. oil supply, further impacting the Canadian economy. Rising prices and higher borrowing costs will put a strain on lower to middle class families across Canada. The Bank of Canada also noted concerns on new variants and supply chain bottlenecks. 
Canada Benchmark Interest Rate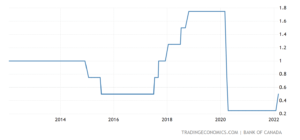 Source: Trading Economics
CPI in Canada remains well above the Bank of Canada's target range. Inflationary pressures and measures of core inflation have all risen. This has spilled over into almost every area of the economy from used car sales, to gas prices, to groceries, and home prices. 
The Federal Reserve also has plans to raise interest rates at the next FOMC meetings this month (March 15-16), to combat inflation. They plan to raise interest rates by 0.25%. 
During Fed Chairman Powell's testimony before Congress today, he mentioned that the Federal Reserve cannot ''predict inflation expectations with utmost certainty.'' This should leave investors concerned, as the Fed's ''transitory'' stance on inflation during 2021 was proven incorrect. With growing geo-political tensions, ballooned commodity prices, and rising interest rates, price stability in 2022 may be a far cry from market expectations.