BNB Chain, also known as Binance Smart Chain (BSC), is a leading blockchain network. BSC runs decentralized applications (DApps), smart contracts, and other decentralized finance (DeFi) products.  BNB Chain is built to be compatible with other blockchains, allowing for interoperability across different blockchain ecosystems.
On February 15, 2022, the global crypto exchange – Binance – announced BSC's rebranding to BNB Chain, a platform set to facilitate the development of the world's parallel virtual ecosystem infrastructure. BNB Chain brings together Binance Smart Chain's high transaction throughput and the BSC's smart contract functionality.
Main Aim of BSC
The BSC platform provides a simplified way for developers to build DApps. It also allows users to manage their digital assets across different blockchains ecosystems in large volumes with low latency.
BSC integrates the Ethereum Virtual Machine (EVM), making it compatible with Ethereum-based DApps and bringing the best of Ethereum to BSC. This compatibility has seen many developers migrate their projects to the cost-effective BSC to leverage the network's lower gas fees and scalability. 
The History of Binance Smart Chain
The centralized exchange, Binance, and its native coin, BNB, launched in 2017. Later, in April 2019, Binance announced the decentralized BSC blockchain, which went live in September 2020. BSC runs parallel to the more centralized Binance Chain (BC), integrating high throughput and smart contract compatibility. 
The centralized exchange, Binance, and its native coin, BNB, launched in 2017. Later, in April 2019, Binance announced the decentralized BSC blockchain, which went live in September 2020. BSC runs parallel to the more centralized Binance Chain (BC), integrating high throughput and smart contract compatibility. 
BSC's well-timed launch during the decentralized finance (DeFi) revolution saw many developers build new projects on the blockchain. This concept of building projects has become a theme of the BSC, with Binance Exchange's CEO, Changpeng Zhao aka CZ, fervently promoting it on Twitter as #BUIDL.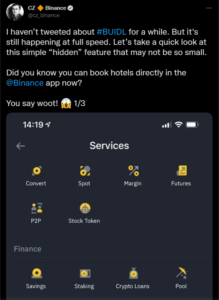 CZ encourages developers to #BUIDL on BSC
The Binance exchange and BSC both share BNB (Build N' Build) coin as their native tokens. The change from BSC to BNB Chain aims to free up Binance's ties to the decentralized blockchain. In addition, BNB Chain aims to have a self-sustaining ecosystem independent of Binance.
Features of Binance Smart Chain
Compatible with Ethereum
BSC supports smart contracts that run on Ethereum. As such, developers can seamlessly build and migrate DApps and other blockchain infrastructure across Ethereum and BSC. With EVM compatibility, developers can port their projects from Ethereum to BSC, thereby accessing popular Ethereum DApps like the MetaMask Wallet. 
Interoperable with BC
The BNB Chain comprises two parts – the BNB Beacon Chain and BNB Smart Chain. Despite running parallel to each other, BC (now BNB Beacon Chain) and BSC (now BNB Smart Chain) integrate with barely any friction. Furthermore, BSC leverages interoperability to ensure developers and users can access and swap more digital assets on BC for BEP-20 tokens on BSC.
Runs Independent of BC
While BSC and BC are interoperable and run in parallel, BSC is independent of BC. They will continue to operate independently, even if BC experiences downtime. Moreover, users have uninterrupted access to features on BSC. 
Decentralized Governance and Supports Staking
Unlike Binance Exchange, BSC is governed by a community, which votes on different aspects that may affect the blockchain's operations. 
BSC supports this on-chain governance through the Proof-of-Staked-Authority (PoSA) consensus algorithm. This hybrid consensus mechanism allows network participants to stake their BNB coins and become validators. This allows the validators to verify transactions on the blockchain. 
Participants who stake their BNB tokens also contribute to securing the blockchain and vote on community governance protocols. Since BSC runs the PoSA algorithm, the blockchain processes transactions faster unlike Proof-of-Work (PoW) blockchains. 
BSC Consensus Algorithm
BSC integrates the Proof-of-Authority (PoA) and the Delegated Proof-of-Stake (PoS) to implement the hybrid PoSA network consensus for the blockchain. 
In this hybrid consensus model, a user who has staked their BNB is elected as a validator to confirm transactions. In turn, generating the blocks in a PoA style. So, the number of BNB tokens staked influences the validator's reputation among other community members. 
With PoSA, BSC can add new blocks every three seconds. When a validator whose proposed block is successfully added to the chain, they receive the transaction fees for the block as a reward. 
Securing the BSC Network
Validators on BSC ensure that only valid transactions are approved. To achieve this security, the network requires a validator quorum. BSC elects 21 validators every 24 hours, choosing from the 21 nodes with the highest BNB stakes. These validator sets can also update the BSC network as required during 'epoch' periods. 
Another way a BNB token holder can participate in validating transactions is by bonding their tokens with block validators. This staking process is known as delegation. Such bonded tokens improve the ranking of validator candidates. A user who bonds more tokens into the stake has an increased chance of being selected as a validator.
To disincentivize validators from bad activities like authorizing invalid transactions, BSC deploys 'slashing' – a penalty mechanism that exposes the malicious validator and makes their attacks very expensive to execute. For instance, the validator may lose their BNB stake.
Functions of BNB Token
Binance Coin, or BNB, is the native token firing on all cylinders in the Binance ecosystem. Here are some uses of BNB on the BSC blockchain:
Pay Fees – You can settle transaction fees on BSC using BNB and earn exclusive discounts.
Trade – Trade and exchange hundreds of tokens on BSC with BNB. You can also exchange or buy BNB on top crypto exchanges worldwide.

 

Stake – Lock up your BNB tokens on BSC to earn rewards or even become a validator. This way, you can vote on the amount of gas fees to be collected and its distribution.
Delegate – Already staked BNB? You can delegate your tokens to a BSC validator to increase your reward earnings.

 

Loan collaterals – Some DeFi platforms can lend you digital assets with BNB as collateral for such loans.
BSC's Unique Offering
The main structure of BSC is similar to that of Ethereum. However, what sets BSC apart from Ethereum is its lower fees – which in part contributes to BSC's improved scalability, limiting network congestion. So, users can access a functionality similar to that of Ethereum at comparably lower fees. 
Even with this salient feature, there are concerns of centralization given BSC's ties with the centralized Binance Exchange. The BSC community is pushing to move away from that tag, given its name rebrand. 
Binance Smart Chain Daily Transactions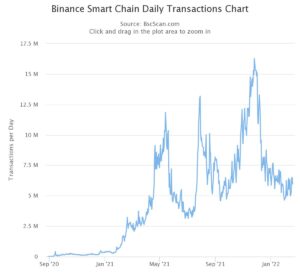 Number of Daily Transactions on BSC
BSC's cross-chain compatibility, high throughput, low fees, and convenience make the blockchain a top alternative for many developers, especially on Ethereum. The blockchain has been a top gainer, among other platforms like Polkadot and Cardano, in drawing more developers to build on its infrastructure. 
Read BSC's whitepaper here and access more resources on BSC code on this catalogue. 
Conclusion
BSC is a fast and low-fees blockchain for users and developers looking to build DApps. Many projects are migrating to BSC to leverage the platform's features. As a result, BSC has recorded a surge in daily transactions – with over 5 million transactions per day on average, in the year leading to February 2022.