TikTok Stock Prices
So does the social media platform TikTok have stock prices and can investors buy TikTok Stocks? The answer is NO because TikTok is not yet a publicly traded company, therefore retail investors cannot purchase shares of the company. TikTok is a privately held Chinese company, owned by ByteDance.
As TikTok gained more popularity over the last 3 years, many retail investors began to ask if they could invest in the company. Although that is not an option now, there have been rumours about an IPO (Initial Public Offering) in the future.
However, investors should not hold their breath in anticipation of one!
Who are TikTok's Investors?
TikTok, owned by ByteDance, has a number of high-profile investors under its belt. We will include a list of some of them below!
TikTok Valuation
TikTok stock prices is valued at $250 Billion in private trades. The company owned by Chinese ByteDance grew 2021 revenues by nearly 77% to $58 billion, down from 100% growth in 2020.
The company maintained 21% of the advertising market in China, according to a recent report from Marketing Lab Zhongguancun. Other sources have valued ByteDance at over $400 Billion, as the company continues to dominate the advertising market in China.
TikTok User Growth Metrics
TikTok has seen tremendous user growth metrics over the last 3 years. The company boasts more than 1 billion monthly active users, and the app has been downloaded more than 3 billion times.
App Annie reported that TikTok was the most downloaded mobile-app in 2021. They also rank #6 on the world's most-used social platforms, according to HootSuite.
Can I Invest in TikTok Stocks Indirectly?
Yes, you can invest in TikTok indirectly. However, this route may involve substantial risk. A way that you can do this is by investing into SoftBank Group, a conglomerate holding company that owns a 3% stake in ByteDance.
However, keep in mind that their stake could be substantially less. This is because SoftBank's Vision Fund reported that they booked some profits on their ByteDance stake in April 2021.
SoftBank Group Corp (OTC: SFTBY), trades in the United States on the OTC markets. The stock is currently down more than 45% over the last 12 months. Given the company's business model, investing in the stock involves substantial risk. SoftBank carries high levels of debt on its balance sheet, so if you're thinking about investing, do so with caution.
EquityZen MarketPlace
There are also platforms like EquityZen, that allows you to invest, buy or sell stock in pre-IPOs via an EquityZen Fund. EquityZen operates a marketplace that allows employee shareholders in private companies to sell their equity to outside investors.
The platform has a minimum investment of $20,000. While this may seem like an awesome idea, this investment route may not be attainable for most people. If you want to invest into TikTok, you may be better off waiting for a potential IPO (Initial Public Offering).
TikTok Stock Prices: IPO (Initial Public Offering)
Investors have pondered on the idea of a TikTok IPO. However, there is no guarantee that the company will take this route. Back in September of 2020, ByteDance announced the new company they plan to form with Oracle, intends to hold an IPO.
However, it's been more than two years and an IPO still holds no luck. They plan to call the subsidiary, ''TikTok Global.'' News surfaced after the company faced backlash from former U.S. President Donald Trump, raising national security concerns. This was largely due to the company's Chinese ownership.
Oracle, Walmart, and Microsoft, were reportedly interested in being involved in the company's IPO plans. While things are still uncertain, there is still a possibility that TikTok makes an IPO debut on a U.S. stock exchange.
With the potential involvement of Oracle, Walmart, and Microsoft, and growing popularity of the app in the U.S., it poses a unique opportunity for U.S. investors. However, the timeline of it's IPO plans is still uncertain.
Will The U.S. Ban TikTok?
Over the past two years, there has been growing concerns of national security as one of the world's most popular social media apps takes storm. During President Donald J. Trump's time in office, he sparked growing concerns of the apps dominance in the U.S.
However, when President Joe Biden took office on November 3rd, 2020, he revoked an executive order to ban Chinese apps TikTok and WeChat. Over the course of the last year, TikTok's growth in app downloads and users in the United States continues to explode. USA remains at the #1 spot, with more than 140 Million users.
We'll share a chart below of the Top 10 Number of TikTok Users By Country!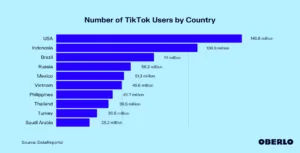 Source: Oberlo
On November 1st, 2022, the FFC (Federal Communications Commission) commissioner Brendan Carr, said that the United States should continue it's efforts to ban Chinese app, TikTok. He is just one of five commissioners who voiced their concerns that the FCC has no regulatory authority over TikTok.
He also cited concerns about Chinese telecom companies, like Huawei. "I don't believe there is a path forward for anything other than a ban," Carr said. There is a general concern in China's dealings with U.S. user data and how this data might influence U.S. political processes.
While the path forward for TikTok in the United States is uncertain, the popular social media app might have to divest to a U.S. company to remain active.
Frequently Asked Questions (FAQs)
Can you buy stock of TikTok?
The Best Way to Buy Stock of TikTok is through SoftBank Group Corp (OTC: SFTBY) and KKR & Co Inc (NYSE: KKR). These two globally renowned investment firms own shares in TikTok's Parent Company, ByteDance.
Is TikTok a publicly traded stock?
TikTok is not a publicly traded company. It is a privately held Chinese company owned by ByteDance.
Is TikTok gonna go public?
TikTok was rumoured to go public back in September of 2020. ByteDance announced that they intended to form a new company with Oracle (TikTok Global) for an IPO in the U.S. However, the deal fell through.
Who owns TikTok now?
TikTok is currently owned by Chinese technology company, ByteDance.
Disclosure: The author holds no position in SoftBank Group Corp or any of the companies mentioned in this article. Freedom Stocks has a disclosure policy.